Papua New Guinea is an independent state, that occupies the eastern half of the island of New Guinea, located in the southwestern region of the Pacific Ocean north of Australia.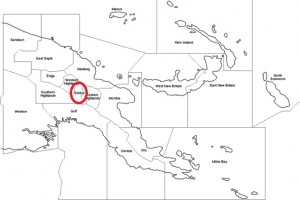 The Nomane language group is located in the east of Simbu Province in Papua New Guinea. It is surrounded by the Wahgi River, which comes from the northwest, turns to the south, where it becomes the border between Simbu and Eastern Highlands Province and then flows back to the west. Villages are typically located between 1800 and 2100 meters above sea level along various mountain ridges. People in the Nomane area group themselves under two language groups: Kewo-Meba and the language for Meine, Siarha, and Gomla. All of these groups agree that they do not share a common history. The population for this area is around 12,000 and is part of a larger language family comprising around 47,000 people.
This area is remote and rugged and due to the lack of infrastructure, electric power and other resources, access to these places is possible only by use of small planes, which are able to land on a short and steep airstrip.
"For as the rain and the snow come down from heaven, and do not return there without watering the earth and making it bear and sprout, and furnishing seed to the sower and bread to the eater; so will My word be which goes forth from My mouth. It will not return to Me empty, without accomplishing what I desire, and without succeeding in the matter for which I sent it."  Isaiah 55:10-11